Music Fabric Backpack for Adults
Are you tired of the same old thing? Looking for a new adventure? Put that backpack on and get out there! With custom-designed fabric, your bag will have that extra something that will make it stand out. It's time to start exploring.
Please allow 3-4 weeks for processing.  Processing time does not include shipping.  3rd party vendor may be used for some designs.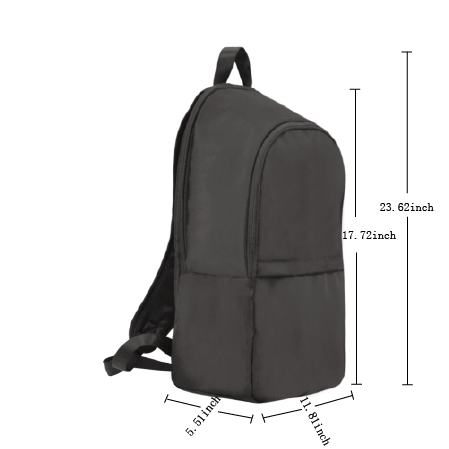 *15.5 Oz.
• Made from high-grade nylon, lightweight yet sturdy.
• Wide open design, large interior with 1 zippered pocket and 3 elastic pockets.
• One front section with 3 elastic pockets and 1 net pocket for milk bottles and other items.
• Padded back panel and adjustable shoulder straps for ultra comfort and stability.
• Unisex design makes the diaper bag a nice choice for both mom and dad.

Ideal image size in pixels (W * H):
Front-Upper: 1600 x 1250 or Higher / 150 dpi
Front Zipper Gusset: 3390 x 654 or Higher / 150 dpi
Front-Lower: 1623 x 1517 or Higher / 150 dpi
Back: 1600 x 2417 or Higher / 150 dpi
Left: 1330 x 2470 or Higher / 150 dpi
Right: 1330 x 2470 or Higher / 150 dpi
Bottom: 1600 x 1000 or Higher / 150 dpi
Made from smooth and soft nylon material.
*Lightweight and waterproof. Simple and fashionable backpack for outdoor traveling.
*Black stitch lines on the surface of backpacks.
*Perfect for holding a laptop and many books.
*Padded back panel and adjustable shoulder straps for extra comfort and easy carrying.
*Designer Tip: To ensure the highest quality print, please note that this product's recommended uploaded image size in pixels (W x H):
Front Piece:1840 x 2512 or higher
Top Zipper Gusset:4112 x 1488 or higher
Left gusset:959 x 1146 or higher
Right Gusset:959 x 1146 or higher
---
We Also Recommend
---